Brug HP FiberStart i stedet for zinkoxid i fravænningsfoderet
EU's forbud mod brug af medicinsk zink i svineproduktionen træder i kraft juni 2022, så hvis du ikke allerede er i færd med at udfase zinkoxid, opfordrer vi dig til at komme i gang nu.
HP FiberStart er et godt match til dig, når du skifter til zinkfrit fravænningsfoder. HP FiberStart fjerner behovet for zinkoxid (ZnO) i fravænningsfoderet – det fremmer fast afføring og opretholder den samme tilvækst.
Som det er nu, anvendes medicinsk zink i vid udstrækning i fravænningsfoder til smågrise for at forebygge og behandle diarré. ZnO forbedrer tarmens barrierefunktion, reducerer spredning af sygdomsfremkaldende bakterier og styrker immunforsvaret. Fermenterbare fibre modulerer den underudviklede mikroflora, så produktionen af ​​organiske syrer fremmes. Når man forsyner de gavnlige bakterier i den nedre del af tarmene med fermenterbare fibre, øger det den naturlige smørsyreproduktion med 19% i smågrise.
Produktionen af smørsyre direkte i den nedre del af tarmen drager fordel af alle gavnlige resultater af smørsyre på tarm villi udvikling, tarmepitel-integritet og anti-inflammatoriske funktioner. Resultaterne fra disse ønskelige indvirkninger afhjælper fravænningsovergangen, erstatter ZnO og opretholder den samme optimale tilvækst.
Produktbeskrivelse
HP FiberStart består af enzymbehandlede protein- og fiberråmaterialer, der er forarbejdet i samme proces. Produktet anvendes i fravænningsfoder, hvor der er behov for alternativer til medicinsk zink.
Næringsstofsammensætningen er 42% råprotein og 13% råfiber. Opløselige fibre, S-NSP, udgør 7% af det samlede NSP-indhold, hvilket gør fiberfraktionerne fermenterbare selv i fravænnede smågrise.
Smågrise fodret med HP FiberStart og smågrise fodret med medicinsk zink opnår samme tilvækst.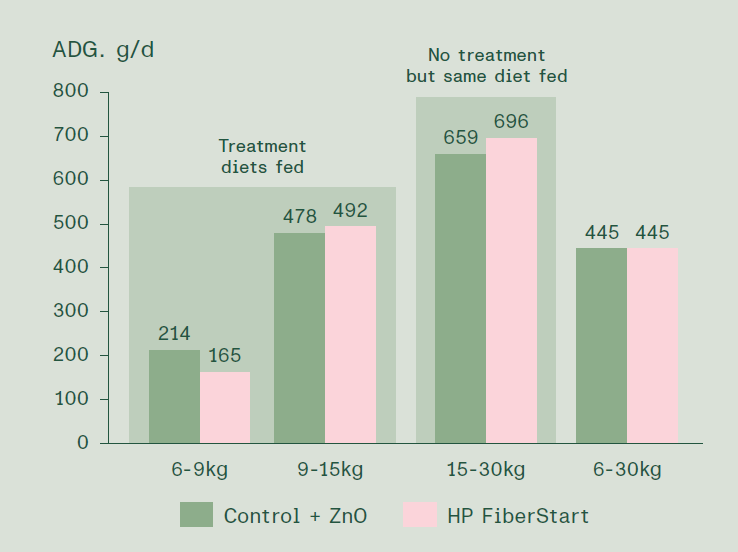 Figur 1. Gennemsnitlig daglig tilvækst efter fravænning, når der fodres med iso-energiske foderblandinger, der indeholder 18% råprotein; kontrol (2500 ppm ZnO) og HP FiberStart (ingen ZnO). Statistisk effekt = 89% og udtrykker testens sensibilitet. Efterhånden som effekten øges, bliver de målte fordele ved HP FiberStart mere markante.
Fordele
Afføringens konsistens er fastere
19% højere smørsyreproduktion
Gunstig fermentering og organisk syreproduktion
Produktegenskaber
Kombination af inerte og fermenterbare fiberkomponenter
Rig på fordøjeligt protein
Lavt indhold af anti-nutritionelle faktorer (ANF'er)
Anbefalet anvendelse af HP FiberStart fravænningsfoder
Den anbefalede inklusionsrate for HP FiberStart er 10% i fravænningsfoder (6-9 kg grise), 7% i præ-startfoder (9 - 15 kg grise) og 3% i startfoder (15 - 30 kg grise). Foderblandinger er afbalanceret med andre ingredienser for at imødekomme dyrenes krav til energi og næringsstoffer

Swine Events
We share our knowledge at conferences and seminars around the world. See where to find us next and who you can meet.
You can also find presentations, videos and other material from previous events.