Use HP FiberStart instead of ZnO in nursery feed
HP FiberStart is a concept of enzymatically co-processed protein and fiber raw materials. The result is a functional ingredient, which contains fermentable fibers. The purpose is to stimulate the weaning pig in multiple ways. In addition HP FiberStart removes the need for Zinc oxide in nursery feed to promote firm feces and maintain the same growth performance
Introducing a sustainable solution that replaces the use of medical ZnO
Pharmaceutical levels of ZnO is widely used in nursery feed to prevent and treat diarrhea. ZnO improves intestinal barrier function, reduce pathogen bacteria proliferation and boost the immune system. In-feed ZnO pharmaceutical levels are being phased out and a sustainable replecement is needed.
Fermentable fibers modulate the underdeveloped microbiome to drive the production of organic acids. Supplying beneficial bacteria in the lower gut with fermentable fibers increase butyric acid production by 19% in weaning piglets.
Production of butyric acid directly in the lower gut takes advantage of all beneficial outcomes of butyric acid on intestinal villi development, gut epithelial integrity, and anti-inflammatory functions. The results from these desirable effects alleviate the weaning transition, replaces zinc oxide while maintaining the same optimal growth performance.
The solution is HP FiberStart
HP FiberStart is enzymatically co-processed protein and fiber raw materials used in nursery feed where alternatives to therapeutic use of zinc oxide is needed. The nutrient composition is 42% crude protein and 13% crude fiber. Soluble NSP comprises 7% of the total NSP content, making the fiber fractions fermentable even in weaning piglets.
Product features
Combination of inert and fermentable fiber components
Rich in digestible protein
Low content of anti-nutritional factors
The many benefits of butyric acid
HP FIberStart supplies beneficial bacteria in the lower gut with fermentable fibers that increase butyric acid production by 19% in nursery piglets and remains higher through day 36 post weaning.
Gut maturation and safe transition during weaning are multifactorial of which butyric acid present in the gut as one of the most important ones. Butyric acid has multiple beneficial effects on vital intestinal function as energy source for enterocytes to stimulate villi development, gut epithelial integrity and anti-inflammatory function - all desirable outcomes needed to alleviate the transition during weaning.
Adding fiber to piglet diets results in higher production of organic acids, however the right combination of fiber fractions that ends up in the desired gut compartment is a prerequisite for stimulating beneficial bacteria and production of butyric acid to get full profit of the many stimulating benefits of butyric acid in young piglets. This can be achieved by using HP FiberStart in the nursery diet.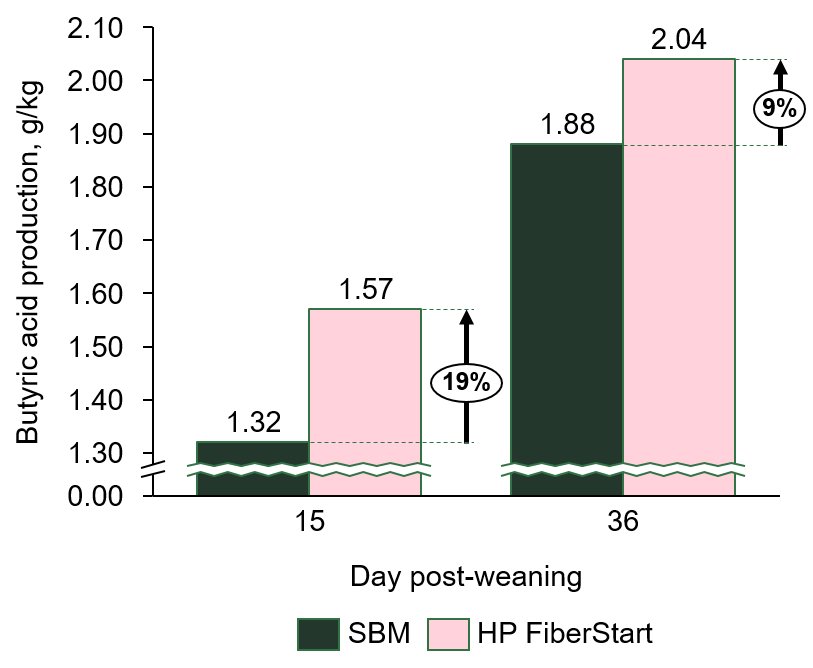 HP FiberStart supply beneficial bacteria to produce butyric acid where it is needed to stimulate gut development and function in nursery piglets.
Product benefits
Feces consistency is more firm
19% higher butyric acid production
Fibers stimulate to higher feedintake during the acute phase post weaning
HP FiberStart results in same high growth performance as when using zinc oxide at pharmaceutical level
HP FiberStart results in same high growth performance as when using zinc oxide at pharmaceutical level
When faced with weaning challenges HP FiberStart is optimal to use because it maintains same high growth performance. The growth performance of HP FiberStart is tested in feeding trials under commercial conditions as well as in universities.
Nursery pigs performance is the same when using HP FiberStart as therapeutic treatment with zinc oxide in diets containing 18% crude protein. The benefit of using HP FiberStart during pre-weaning holds through phase three. The statistical power of our trials, with a great magnitude in terms of number of piglets and replicates, secure that the measured differences in ADG between treatments are correct. Statistical power = 89% and expresses the sensitivity of a test. As power increases, the likelihood of getting false negative test results decreases.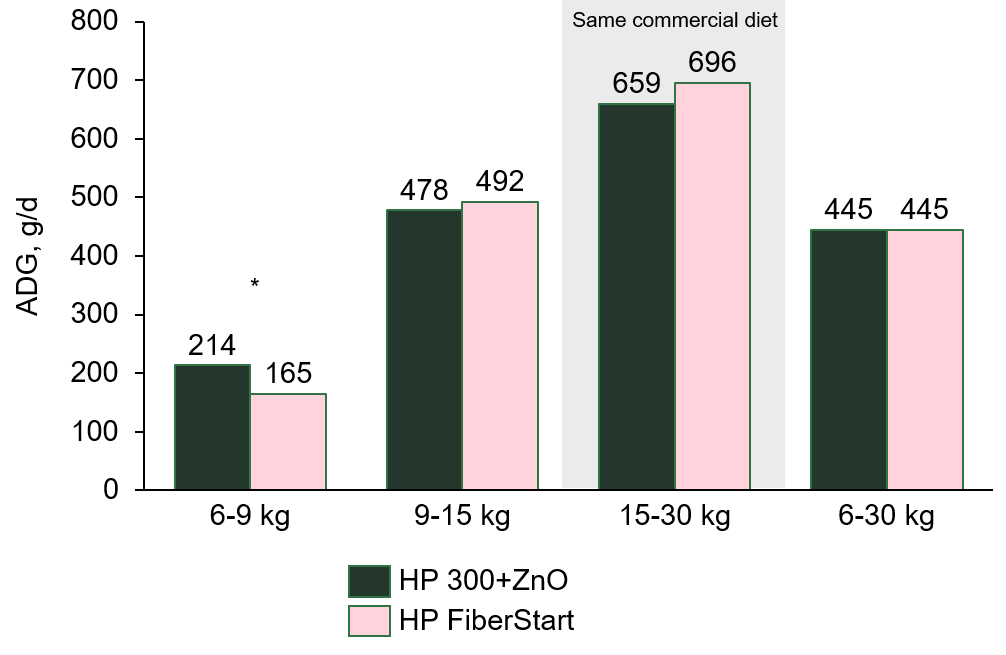 Piglets fed HP FiberStart and those fed pharmaceutical levels of ZnO perform equally
Inert fibers stimulate feed intake and promote peristaltic movements to reduce stasis and accumulation of digesta. Thus adhesions and consequently proliferation of pathogen bacteria is avoided.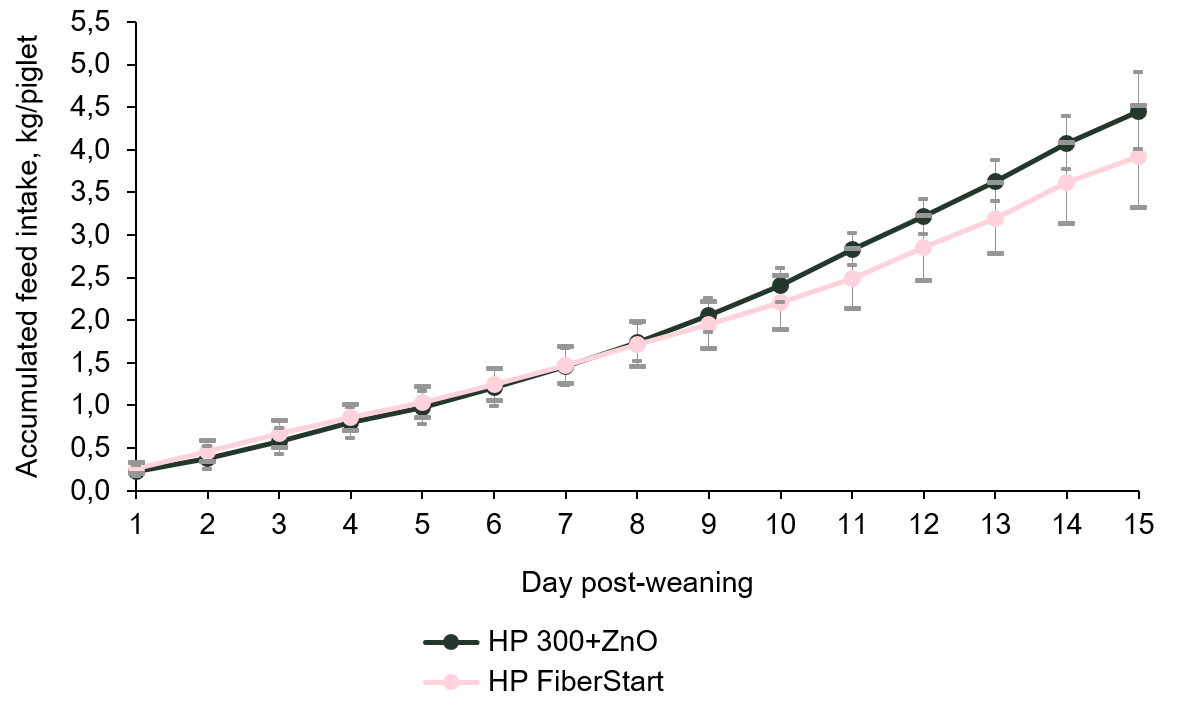 HP FiberStart stimulates piglets to higher feedintake during the acute first week post weaning were anorexia is more pronounced.
Recommended inclusion rate of HP FiberStart
10% in weaning feed (6 – 9kg piglets)
7% in pre-starter feed (9 – 15kg piglets)
3% in starter feed (15 – 30kg piglets).
Diets are balanced with other ingredients to meet animal requirements for energy and nutrients.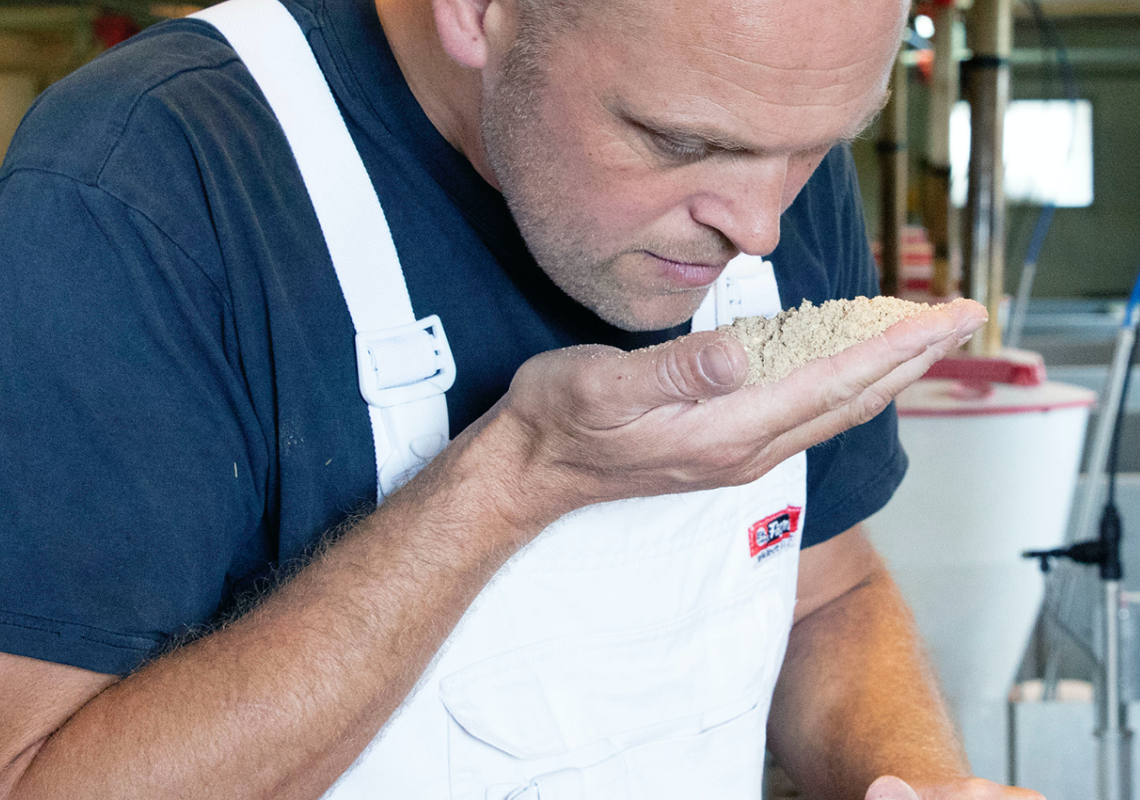 Product benefits
Feed is the critical factor in animal production, accounting for up to 70% of total costs. Using HAMLET PROTEIN specialty soy proteins in young animal feed, you can optimize feed efficiency – and maximize your return on investment.

The key is their easy absorption by immature guts. Although added to feed for only a limited period in early life, our proteins have a strong carry-over effect on animal growth and performance. Feeding trials have documented a higher slaughter weight compared to animals fed standard soybean meal.

Our highly bioavailable proteins improve feed quality overall. That paves the way to reducing the total protein content – cutting the cost of your formulation.
Read more