HP 300 - Results from 20 years of feeding trials are the proof
Addition of our flagship product HP 300 to feed for weaning pigs secures a consistently better performance than other protein sources. Even after supplementation has ended, HP 300 contributes to higher weight gain.
20 feeding trials across 10 countries have tested the effect of HP 300 in feed for weaning pigs. At HAMLET PROTEIN, our analysis of the results confirms what our customers have long experienced: that feed containing our speciality soy protein really is more efficient than feed supplemented with other soy or animal-based proteins. HP 300 is low in anti-nutritional factors (ANF), that are known to have a negative impact on feed digestibility and nutrient absorption. The lower the level of ANF, the greater the potential for fast and healthy piglet growth.
To confirm the value of HP 300 addition, various feeding trials that had compared HP 300 with a range of soy and animal-based protein sources were used in a meta-analysis to evaluate the difference between control diet and those using HP 300. Seven of the trials also investigated a post-supplementation effect of early diet on subsequent piglet performance.
The feeding trials measured three primary performance parameters: average daily feed intake (ADFI), average daily gain (ADG) and feed conversion ratio (FCR). The figures below show how each parameter improves when feed is supplemented with increasing doses of HP 300, ranging from 3.5% to 20%.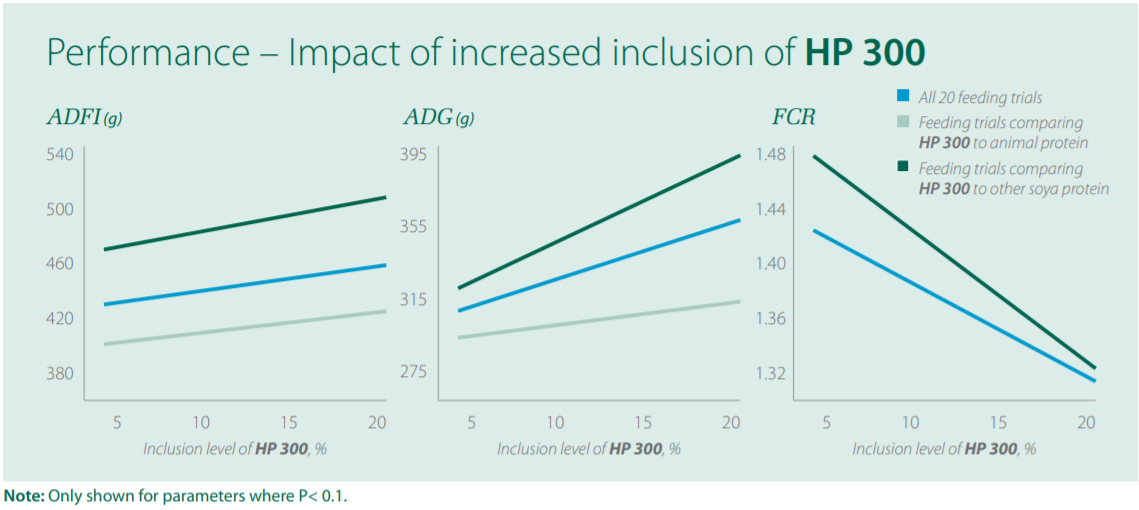 Facts on the feeding trial
20 feeding trials
Across 10 countries

All performed by external partners
The feeding trials compared HP 300 with:
Soy protein sources: soy bean meal,
soy concentrate, full-fat soy, extruded soy
Animal protein sources: skimmed milk powder,
whey, blood plasma, fishmeal
Key findings
Feed intake, weight gain and feed conversion ratio are significantly improved with increasing levels of HP 300 in the nursery feed compared to other protein sources
Piglet performance continues to improve even when supplementation of HP 300 ends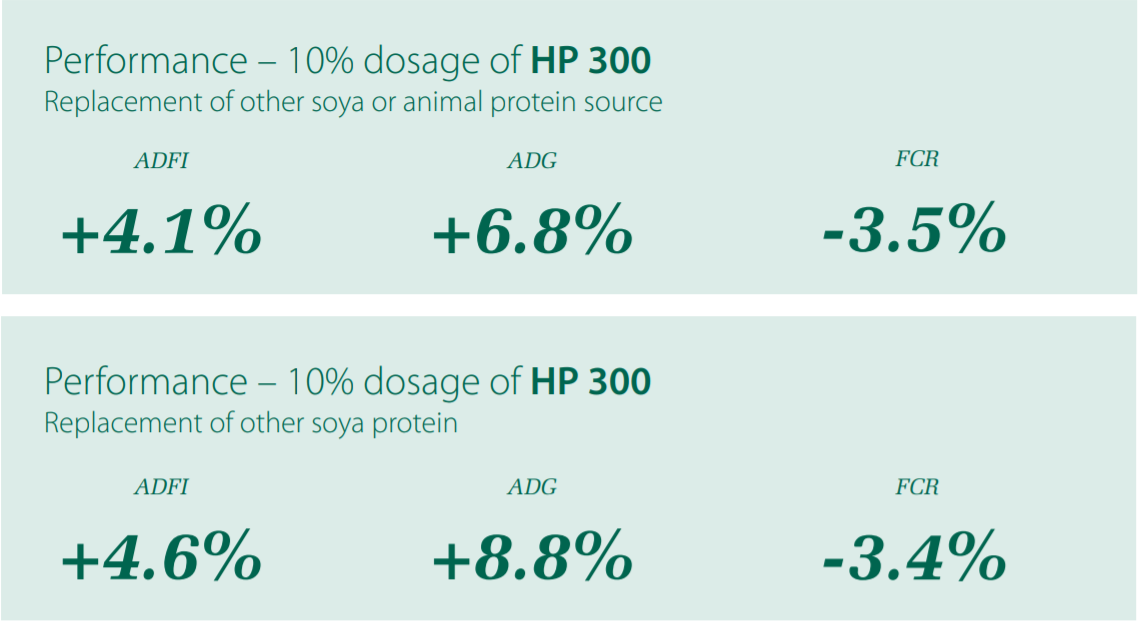 Positive effect on feed intake and piglet performance
When including HP 300 in the weaning diet or piglet feed it can replace the following:
Porcine solubles, DPS
Fish meal, FM
Milk proteins
Other animal proteins, blood meal, poultry by-product meal etc.
Potato protein
Soy protein concentrate, SPC
Fermented soy proteins
HP 300 is also available in a Non-GM version.
HP 300
Young piglets have an immature gut that limits their ability to absorb nutrients. That is why Hamlet Protein developed HP 300 - an enzymatically treated soy protein.
It is being used worldwide in weaning feed for piglets, because it is a practical solution, backed by science that works HP 300 gives you more benefits:
• Improved feed efficiency
• Improved weight gain
• Improved gut health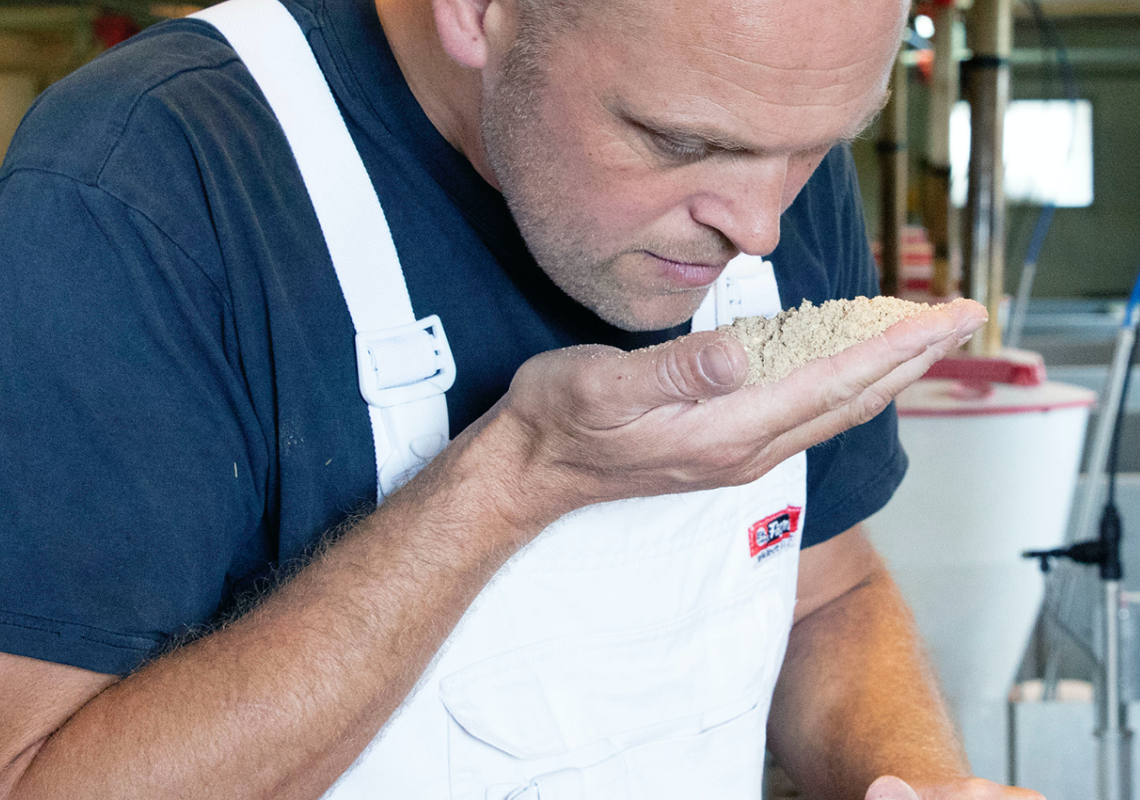 Product benefits
Feed is the critical factor in animal production, accounting for up to 70% of total costs. Using HAMLET PROTEIN specialty soy proteins in young animal feed, you can optimize feed efficiency – and maximize your return on investment.

The key is their easy absorption by immature guts. Although added to feed for only a limited period in early life, our proteins have a strong carry-over effect on animal growth and performance. Feeding trials have documented a higher slaughter weight compared to animals fed standard soybean meal.

Our highly bioavailable proteins improve feed quality overall. That paves the way to reducing the total protein content – cutting the cost of your formulation.
Read more